Mensagens

40.687
Reações

34.247
Pontos

1.089
devido ao que? ah vá cara que piada voce hein, 2 terços do planeta é agua sabia disto? é cada uma... quem regula a temperatura mundial são correntes maritmas!!!
Que bom que nisso você acertou! Notícia fresquinha: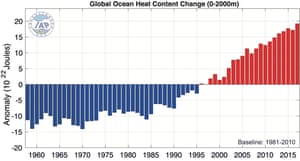 2017 was the warmest year on record for the global ocean
https://link.springer.com/article/10.1007/s00376-018-8011-z
This important ocean information was

just released today

by a world-class team of researchers from China. The researchers (Lijing Cheng and Jiang Zhu) found that the upper 2000 meters (more than 6000 feet) of ocean waters were far warmer in 2017 than the previous hottest year. We measure heat energy in Joules. It turns out that 2017 was a record-breaking year, 1.51 × 1022 Joules hotter than any other year. For comparison, the annual electrical generation in China is 600 times smaller than the heat increase in the ocean.
https://www.theguardian.com/environ...-oceans-were-by-far-the-hottest-ever-recorded